2018 Russia World Cup: Changes in Qualifying Odds after Second Round of Group-Stage Games
Jun 24, 2018 · 298 words · 2-minute read
Before and after each group's games, I compile the teams' betting market odds of qualifying for the 2018 World Cup's knock-out stage. The two teams betting markets expected to advance before the start of the World Cup are marked with darker colors.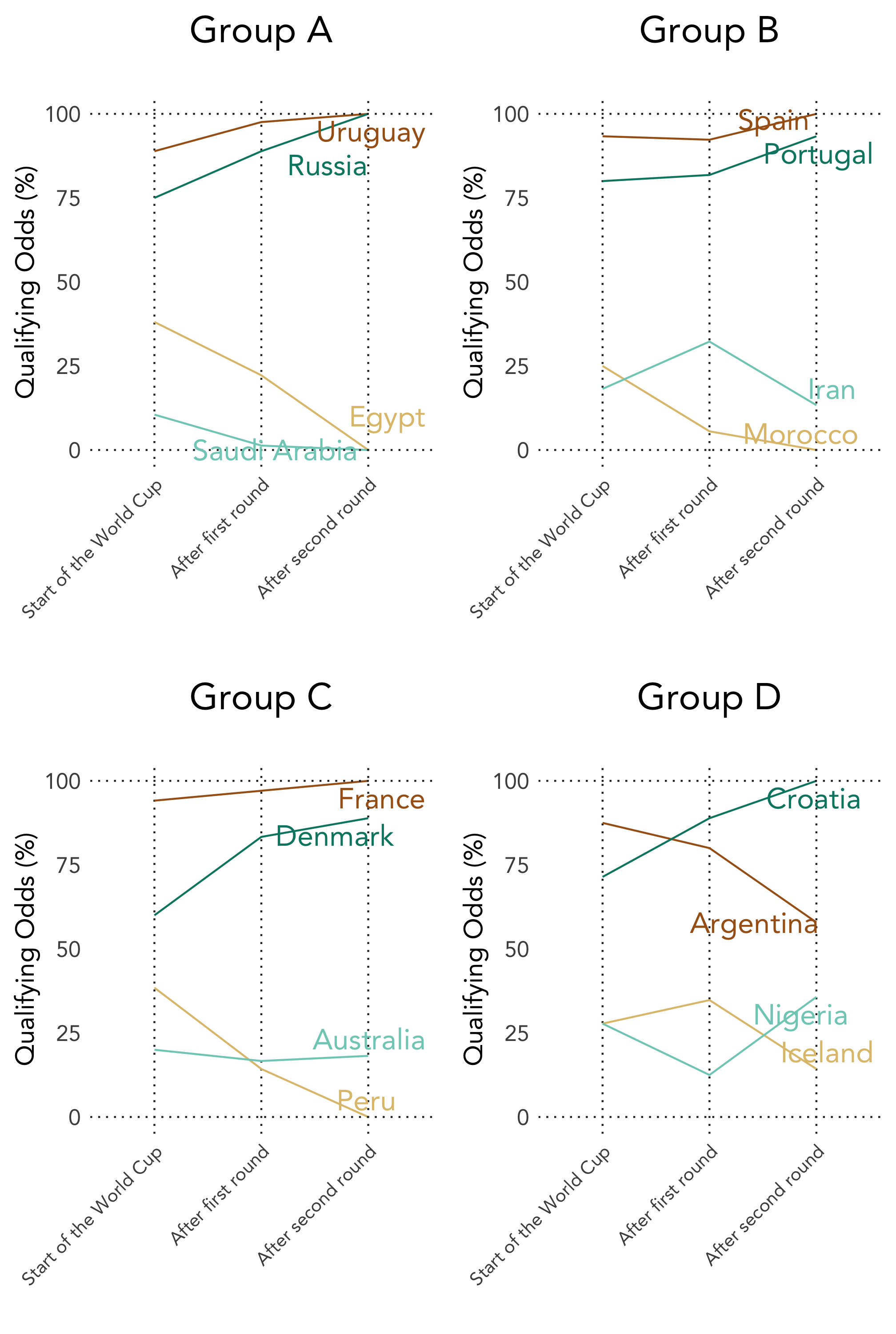 The outcomes in Groups A through C are mostly as expected, with the darker-colored countries qualifying (or very close to qualifying) for the elimination stage. Group D, however, is a complete toss-up, after Argentina's shocking 0-3 loss to Croatia and Iceland's shocking 0-2 loss to Nigeria in the second round. It is not shown in the above chart, but Iceland's odds rose from roughly 35% to 50% after Argentina lost to Croatia dropped sharply to 17% after itself lost to Nigeria the next day.
Group D is also the only group in the tournament in which no team has lost the chance of progressing. (All teams in Group F also technically all stand a chance of qualifying, but South Korea's odds of 3% is not meaningfully different from 0%.)
In the bottom half of the tournament (if you will), Groups F and G produced expected outcomes. It is worth noting that despite Germany's very bumpy ride in the first two rounds (a loss to Mexico and a last-minute win over Sweden), the Group's two favorites are in line with expectations (Germany, Mexico). Surprisingly, Germany has even reemerged as the favorite to qualify in this group.
Group E's surprise is Switzerland's triumph over Serbia, both in their second-round match against each other and in the overall qualifying odds.
Group H is the bottom half's toss-up, with Japan, Senegal, and Colombia vying for two spots in the elimination stage. Group H is also the only group in which a favorite (Poland) has completely lost the chance of progressing.