How Extraordinary Was the American 15-Year-Old Coco Gauff's R16 Run at Wimbledon?
Jul 6, 2019 · 388 words · 2-minute read
Coco Gauff, an American born in 2004, came through the qualifying rounds of the 2019 Wimbledon Championship and advanced to the Round of 16, beating grand slam champion Venus Williams along the way. Commentators praised Gauff effusively, some even calling her the next Steffi Graf or Martina Hingis. I was curious whether teenagers with similar performances in the past eventually lived up to the hype, so here is the data:
Women: Age at First R16 Appearance and Career Success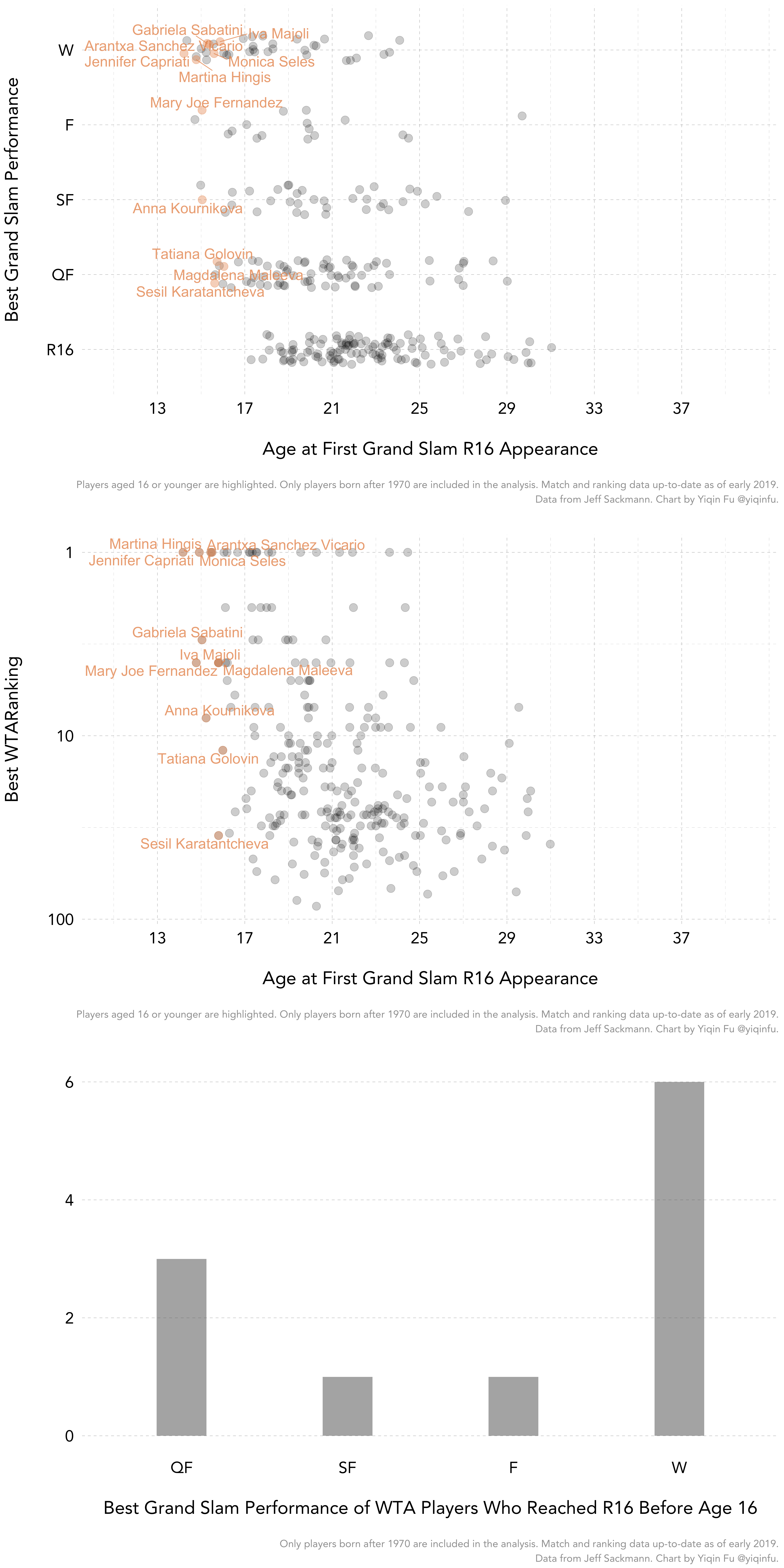 As shown above, of the 11 people that made it into a grand slam R16 before turning 16, six became grand slam champions, and nine broke into the world's top 10. In other words, the commentators are probably right – even if Gauff doesn't go down as one of the greatest in tennis history, she may very well lead the pack of her generation.
P.S. Late-booming grand slam winners include Flavia Pennetta, Angelique Kerber, and Li Na, all of whom made their first R16 appearance at around 24 years old.
The pessimistic case for Gaufff is that not all teenage prodigies became top players. Sesil Karatantcheva of Bulgaria reached the 2005 French Open quarterfinal at age 15 (as shown on the above chart), also beating Venus Williams along the way. But she was suspended from 2006 to 2007 for doping and has since never gone past the second round of a slam.
Men: Age at First R16 Appearance and Career Success
The shocking finding of this data exercise is that no male player has ever reached the Round of 32 before turning 16, let alone the Round of 16 or beyond. Only when we relax the age cutoff to 18 do we start to see names such as Michael Chang pop up.
Gender Differences in Career Peaks?
If we plot the ages of players' first R32 appearances by gender, we see that the women are on average two or three years younger than the men. We get the same pattern when we plot the R16/QF/SF appearances as well. I'd love to find out what explains this pretty sizable age gap. Is it because the serve is more important in men's games, and since men are the strongest in their mid-twenties (as opposed to their early twenties), so we see slightly older men at the highest level of competitive tennis?