SheIn: A Story of Online Segregation and Data as Business Intuition
Aug 29, 2021 · 4068 words · 20-minute read
SheIn, an e-commerce company founded in China but sells exclusively to overseas markets, is likely to eclipse Zara (Inditex), H&M Group, and Gap Inc. as the world's largest clothing retailer as early as the second half of this year. It reportedly sold $10b worth of clothing in 2020 and $3.6b in the first quarter of this year, reaching a valuation of $46 billion. On the U.S. iOS and Android app stores, it overtook Amazon in May as the most downloaded shopping app. These are all astounding achievements, but I wanted to put them in context: How does $3.6b a quarter compare to other retailers, and is the rise of SheIn entirely a COVID story?
U.S. Search Interest and Sales
The best publicly available dataset to answer my questions is Google Trends, which goes back many years and allows for comparisons of up to five different keywords.1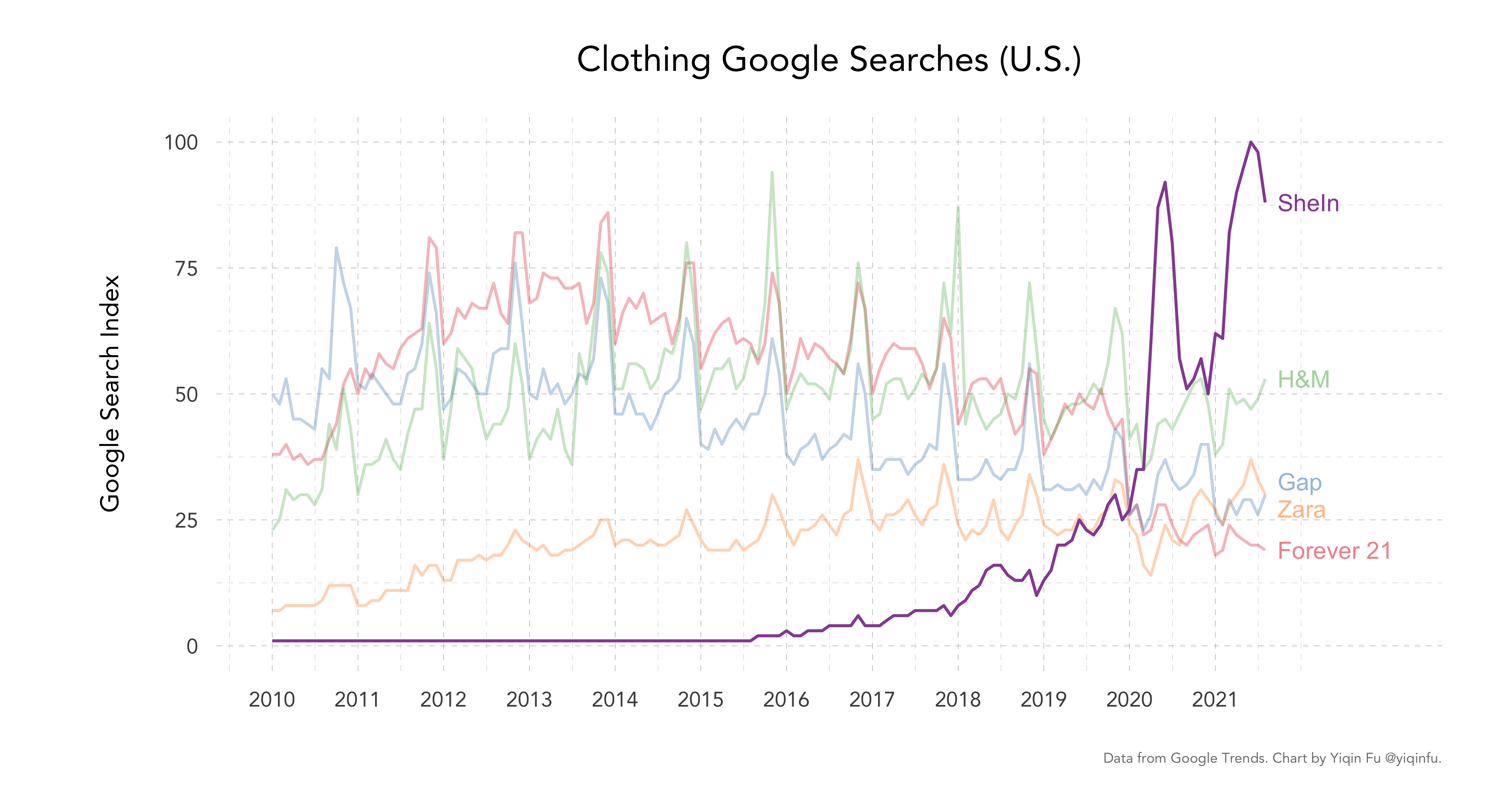 As shown above, search interest in SheIn has been gradually increasing since 2016 and spiked in April 2020, a month after lockdown measures were put into place in the U.S. Unlike other retailers in previous years, SheIn didn't see a bounce during 2020's holiday season, but it quickly recovered in spring 2021, reaching a new high this June. My takeaway is that the pandemic catapulted SheIn to its current position, and the momentum persisted even as the U.S. economy began to open up. It remains to be seen how long the interest in SheIn will last post pandemic and whether the usual seasonality trends apply. As with most things in life, SheIn's success is both "being in the right place at the right time" and "working hard to stay prepared."
---
What about actual sales numbers? How does an online-only retailer compare to companies with brick-and-mortar stores?
SheIn hasn't disclosed its revenue by region,2 but we know that "more than half" of its 30m daily active users live in the U.S. I am, therefore, going to assume that it did at least $1.8b of sales in the U.S., half of the reported $3.6b Q1 total. (Fiscal years differ across companies, so the data reflects sales in slightly different months – see figure caption.)
Observations:
Gap Inc. is surprisingly big! (Brands: Old Navy, Gap, Banana Republic, and Athleta)
Inditex (Zara, Pull & Bear, Massimo Dutti) and H&M (H&M, COS) are much smaller than I thought – they sell more to Europe and Asia;
As a company founded in 2014, SheIn's $1.8b is very impressive.
Worldwide Search Interest and Sales
Next, let's look at the global market. Here's the same Google Trends data but for the entire world.
SheIn doesn't have as dominant a position globally as it does in the U.S., although it's inching closer to the market leader H&M. The easing of lockdown policies in most countries didn't seem to shift search interest to retailers with an offline presence. (I would've expected the relative share of H&M and Zara searches to go up, as people start looking for directions to and opening hours of the brick-and-mortar stores nearby.)
---
In terms of global sales (both on- and offline), SheIn is roughly the size of Gap, 70% the size of H&M and Zara. (Again, fiscal years differ across companies, so Zara's and Gap's numbers are overestimates – see figure caption.)
SheIn is reportedly aiming for a 50% to 100% revenue increase this year. Given its Q1 performance, hitting $15b - $20b in 2021 and even surpassing Zara seems like a real possibility.
Further Online Segregation
The biggest surprise of SheIn's story, however, is not the fact that a seven-year-old company3 may soon overtake its 47-year-old rival. It's that few people outside of its customer base have even heard about it.
The Wall Street Journal and the Financial Times have written a total of four articles on the company, all published within the last three months. I only learned about the company in June when tallying China's unicorns, and none of my friends living in the U.S. or Europe have ever heard about SheIn or shopped on the site.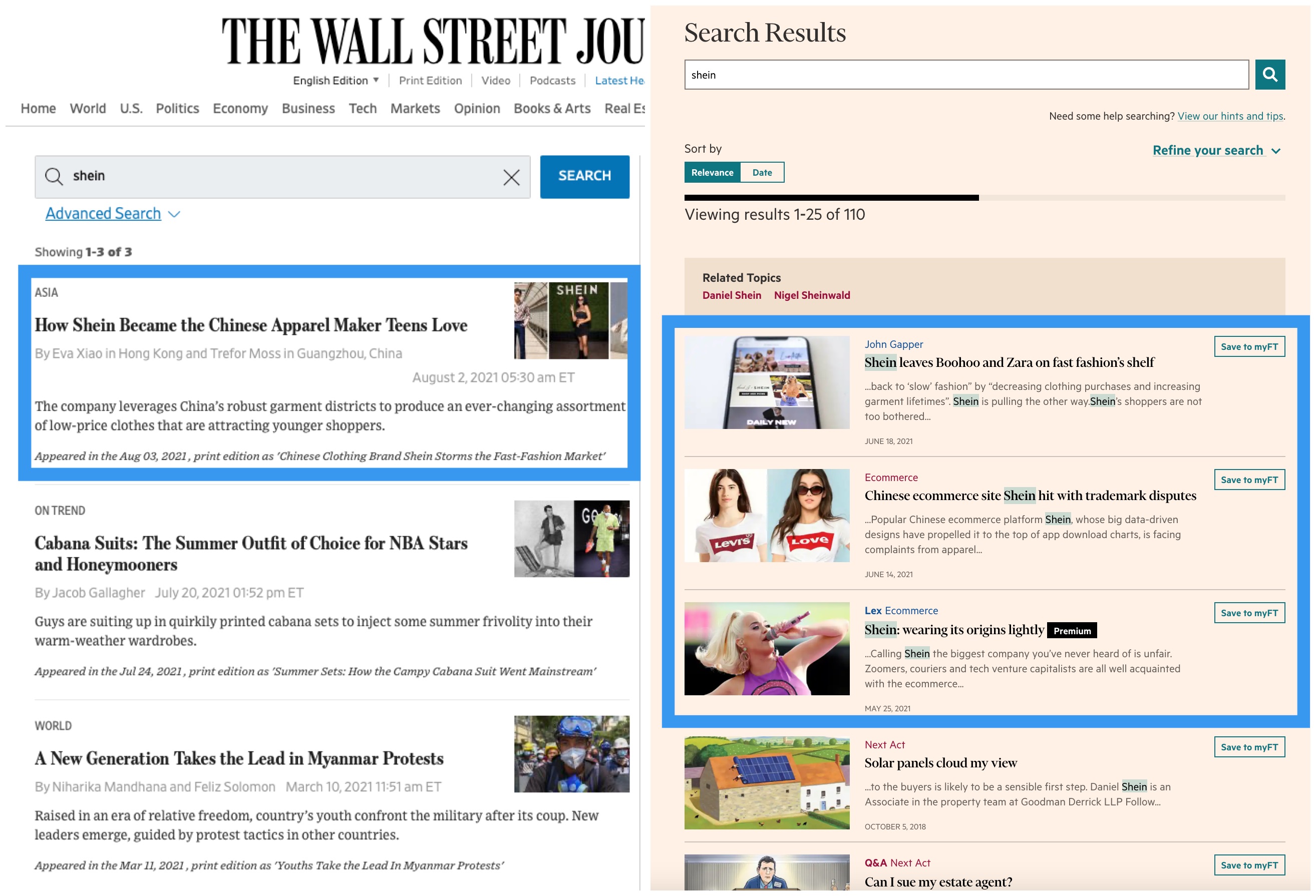 The lack of name recognition is partly the result of SheIn's stealth media strategy – its leadership hasn't done any interviews with Chinese or foreign media. Nor are there splashy photos or controversial tweets of its founder Xu Yangtian on the Internet.
Another important part of the story, though, may be further segregation (or segmentation) in the virtual world based on demographics and media consumption habits.
Market segmentation is nothing new – JCPenney, Nordstrom, and Neiman Marcus have been catering to different types of consumers in the offline world since their founding. But what feels new to me about the rise of SheIn is that while all of us may walk or drive past a JCPenney, a Nordstrom, or a Neiman Marcus despite never having been a customer there, we could soon be encountering entirely different stores in the virtual world.
Below are screenshots from the SheIn app. A typical item of clothing costs $10, and dresses on sale can go as low as $2 or $3.
From Chinese media reports, we know that the founder started his career doing search-engine optimization for Chinese companies looking to sell products overseas. At SheIn, he doubled down on social media platforms such Pinterest, Instagram, and TikTok, buying keyword ads as well as working with influencers.
It's reasonable to assume that SheIn grew by being insanely good at online marketing and that its target demographic is a teenage girl (living anywhere in the world) active on Instagram or TikTok. Hence, if you don't know anyone in that demographic with that media consumption profile, you are unlikely to have even heard about this company, despite the fact that it ships a million orders a day and has more than 30m DAUs, half of them living in the U.S.
Besides age, gender, and media consumption habits, I suspect that another important consumer characteristic is income. Fortunately, Google Trends shares data at the regional level that allows me to test the income hypothesis. The y-axis below shows SheIn's share of "total clothing search" by "Designated Market Area" (DMA), Nielsen's method of dividing the U.S. into subregions. The x-axis shows the percentage of low-income households in each DMA, as defined by Nielsen. (You can think of "low-income households" as the lowest decile of all U.S. households.)
Compared to other retailers, SheIn is more popular in poorer areas in the U.S. – the variable "share of low-income households" alone explains more than 50% of the variation in relative search interest in SheIn. And if we are willing to ignore issues with ecological inference, we can also conclude that the company is more popular among households and individuals with lower income.
A member of SheIn's founding team told Chinese media that in the company's early days, he and CEO Xu saw an opportunity to sell affordable clothes overseas because they believed that the financial crisis would "devastate (the U.S.) middle class". The data does seem to bear out their theory.
Another hypothesis, of course, is that SheIn is appealing to rural Americans with few fast fashion options close by. Nielsen doesn't provide population density data on its DMAs,4 so we can't know for sure whether density or income is a better predictor of interest in the company. (The outlier "North Platte, NE" surely looks like a story of rural Americans embracing SheIn.)
I decided to check out the brick-and-mortar stores in the small Mississippi and Georgia cities shown on the top right-hand corner of the scatterplot. I couldn't find a website for malls in Greenwood, MS, but those in Meridian, MS and Albany, GA certainly don't look very exciting (see below).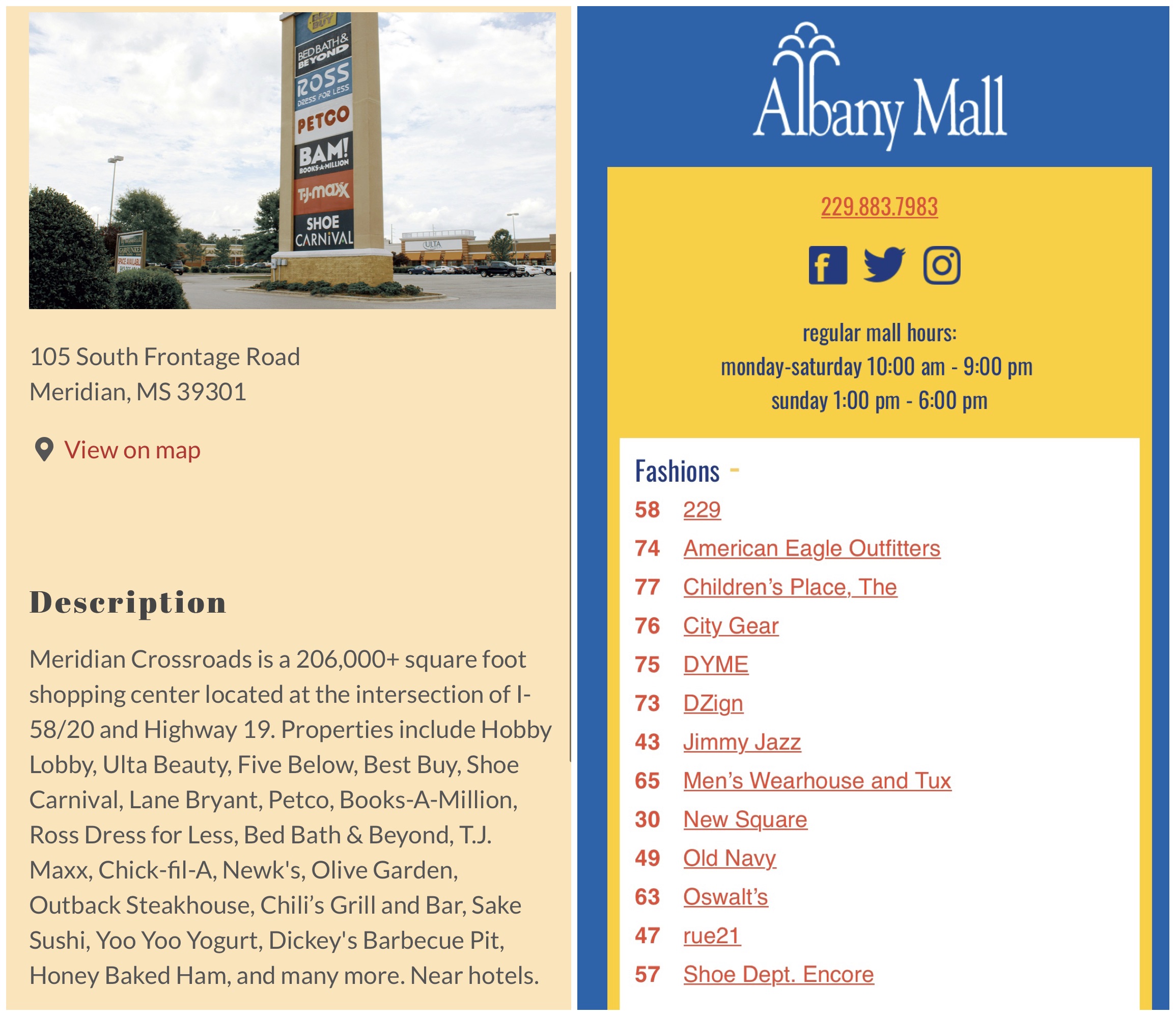 Below is the driving distance from Meridian, MS to the closest fast fashion stores:
H&M: 2 hours
Zara: 3 hours
Gap: 3 hours
Forever 21: 4 hours
I was surprised to discover that I live within 20 minutes of all four stores despite being in a suburb. You may want to perform this exercise too if you live in the U.S.
(Tangent: The vastly different levels of access to fast fashion stores reminds me of the stark contrast in presidential vote choice between people living in counties with a Whole Foods and those living counties with a Cracker Barrel. The following table on the 2020 election is from Dave Wasserman:)
| Counties | Share of U.S. Voters | Biden Winning Percentage |
| --- | --- | --- |
| Just a Whole Foods | 23 | 95 |
| Both a Whole Foods & Cracker Barrel | 29 | 77 |
| Just a Cracker Barrel | 19 | 18 |
| Neither | 29 | 12 |
If SheIn's astronomical but quiet success is any guide, segregation has come to online retail. Amazon is ubiquitous (~50% of U.S. households have Prime), but people of different age, gender, income, and media diets are shopping at entirely different places. Once the online-only retailers replace the legacy department stores, we are going to live in separate universes, all without knowing where and how other groups shop.
Furthermore, as these e-commerce companies transcend physical borders, a teenage girl in Lousianna who spends an hour a day watching @influencer123 on Instagram may be more similar to another teenage follower of @influencer123 in Abu Dhabi than she is to you and me reading this. I find the rise of SheIn fascinating because it ties together three of the most important events/trends of our time: globalization, COVID, and communities built around social media following rather than physical proximity.
Transcending Cultures: Data as Business Intuition
Besides allowing SheIn to quickly scale and target specific demographics, the Internet has also generated enough data as feedback such that local knowledge is no longer necessary.
It used to be that you have to know a market before you wish to enter, especially when selling things as central to consumers' identity as clothing. But SheIn's success knows no boundaries: Brazilians, New Zealanders, Filipinos, and South Africans all love to shop there! Even the French do as well.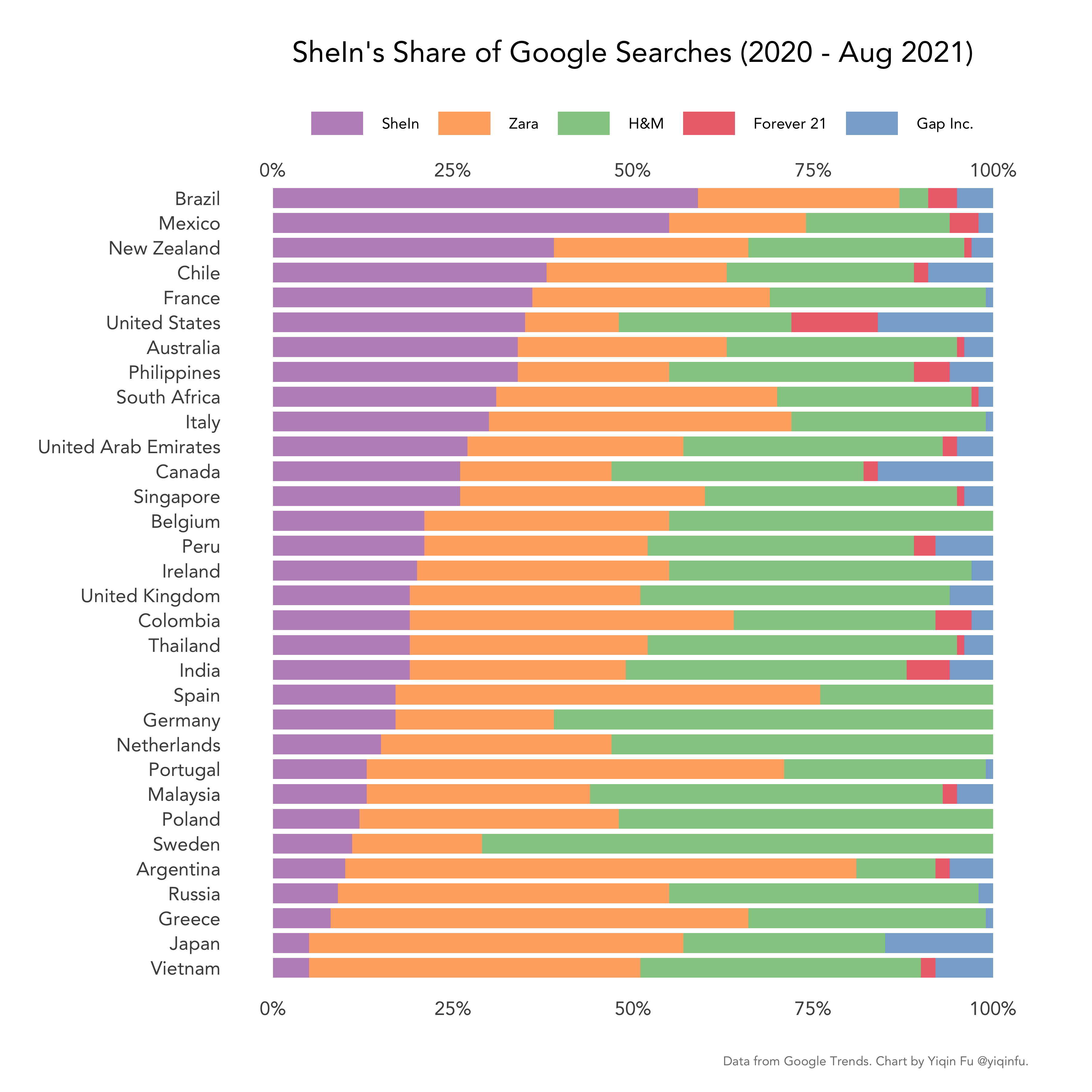 Of the 32 countries and regions for which Google provides search trends, SheIn comes first in the following eight: Brazil, Mexico, Chile, New Zealand, the U.S., France, Australia, the Philippines. It is a close second in another three: South Africa, Italy, and Canada.
How did SheIn break into geographies with vastly different cultures? The secret lies in the amount of data it can use as feedback and the speed at which it can iterate over designs.
In the 1980s, Zara pioneered the model of computerizing inventory management and using sales data to inform future design and production. Today, SheIn is doing exactly the same but on a different scale.
Below are screenshots I took of the app on July 16 and August 17. Between those four weeks, SheIn introduced roughly 6,000 products per day. Assuming that the pace is kept constant over the course of the year, SheIn will have added two million products in 2021.
SheIn tightly controls its supply chain, working with a core of 300 suppliers located within a two-hour drive of its headquarters in Panyu, Guangzhou. The company asks suppliers to commit to making as few as 100 items per batch so that it can quickly iterate and only produce what will sell. In SheIn's early days, few factories were willing to take on the risk of making small batches, so SheIn subsidized production to guarantee the factories a profit.
Below is a comparison of Zara and SheIn that gives us a sense of how much data is available to the two companies and how quickly they can iterate:
| | Zara | SheIn |
| --- | --- | --- |
| Minimum Batch Size | 500 | 100 |
| Time from Prototype to Production | 2-3 weeks | 1 week |
| New SKUs/Year | Tens of thousands | Millions (?) |
I don't know how much SheIn tests different products in different markets, but it reportedly launches new products first in multicultural U.S. and then expands to the Middle East, India, and Latin America.
If you're curious, I suggest you create an account on SheIn and see how often prices change and how often things come in and out of stock. The experience would be closer to shopping on Amazon (or watching TikTok) than buying from Zara.com or Macys.com.5 From the company's job board and employee profiles, you can also get a sense of the roles that data and algorithms play in production, warehousing, and product ranking decisions.
Improved demand predictions also allow SheIn to avoid any inventory glut, the most common problem facing clothing retailers. In 2018, almost all clothing retailers in China held inventory worth more than their net profit, and the global fast fashion industry failed to sell 30% of the items produced. Investors say that a key metric they look at when evaluating a clothing business is the percentage of products sold at the listed price. The industry average is around 60 to 70%, and Zara's is closer to 90%. In a SheIn deck shared in 2018, the company said its number was also around 90%.
Logistics and Unit Economics
Besides its global growth strategy, three other questions loom large for me about SheIn:
How does the unit economics work? SheIn offers free shipping and free returns for U.S. customers. How can it possibly make money?
What is the quality of SheIn's clothes?
How long does it take for an order to arrive? How would consumers be willing to wait that long?
We'll have better answers when the company goes public. But before that, I thought I'd investigate myself.
I placed two orders in July and August, and they arrived at my door in the Bay Area after seven and nine days. In both cases, free shipping was offered on orders above $29. (In the days I've been following the company, the free shipping threshold went as low as $0 but never above $79. Shipping otherwise costs $8 or $13.)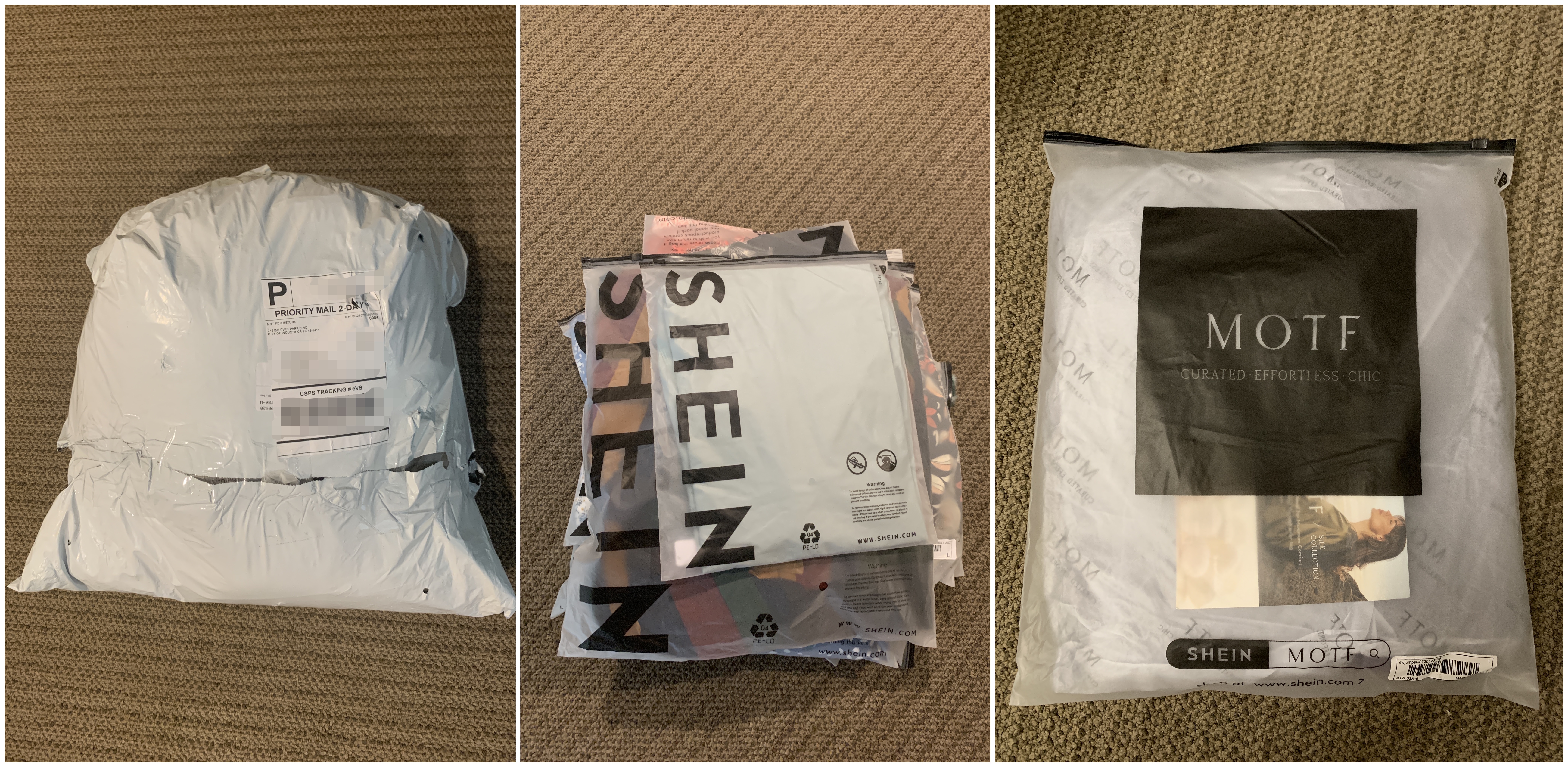 Logistics
According to Chinese media reports, SheIn operates warehouses around the world but ships 95% of its products directly from its central warehouse in Foshan, Guangdong. (The ones overseas mostly take returns.)
Both of my orders were shipped by air from Guangzhou, China, although one order had a separate package originating from New Jersey.
Order 1: Split into two packages

Shipped from Guangzhou via Hong Kong and Los Angeles by air; domestic leg handled by USPS Priority Mail; arrived after seven days;
Shipped from New Jersey by UPS SurePost; arrived after seven days. (Items in this package were all heavily discounted.)

Order 2:

Shipped from Guangzhou via Hong Kong and Los Angeles by air; domestic leg handled by DHL; arrived after nine days.
My returns were sent to a warehouse in California and the refunds processed the next day.
---
The shopping experience was overall quite pleasant, but I'm still confused about the unit economics – How can a company stay afloat selling $5 dresses with free shipping and returns? If I have to come up with explanations besides efficiency, I can think of three other factors working in the company's favor:
The clothing business has 60% - 70% gross margins;
Packages are light because clothes don't weigh a lot;
Shipping directly to consumers allows the company to avoid both export and import taxes.
Also, since SheIn ships by air, it doesn't need to compete for shipping containers or wait for ships to dock at the Los Angeles port. I guess we'll find out more when the company goes public.
Quality
A friend with expert knowledge in fast fashion helped to judge the quality of the clothes. According to her, most items were "on par with Forever 21" and "slightly worse than Zara and H&M." She was quick to note, though, that most items were $5 or $10 cheaper than similar products at competitor stores.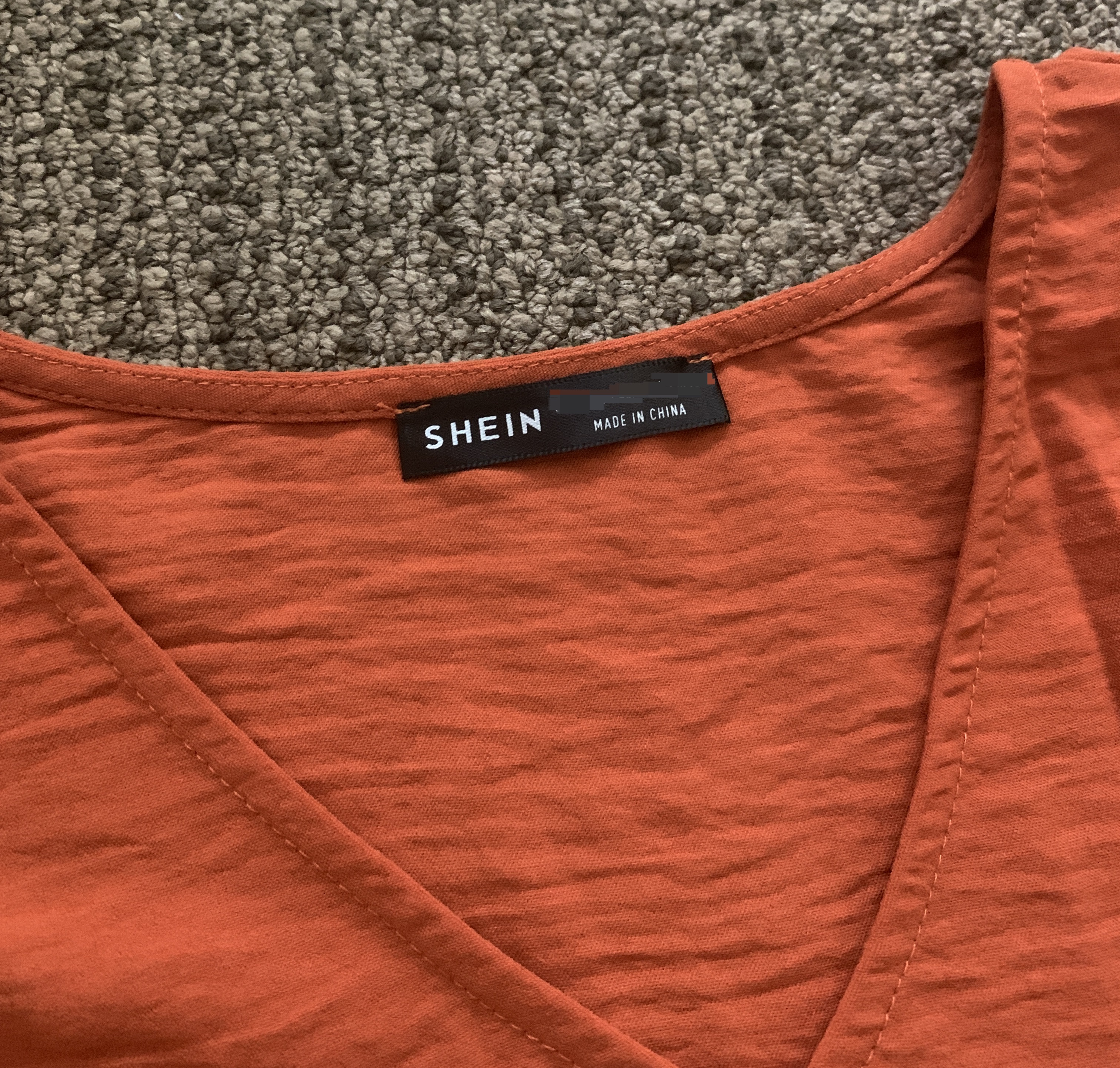 The variance in quality was also high. The expert friend found two items that she said she'd pay double or triple for at a department store. But there were also a few items with snags and/or missing labels. Furthermore, the friend found the inconsistency in sizing frustrating – even in the same category (e.g. activewear), one could be a size 4 in one shirt but a size 12 in another.
Asked if she would shop there, the expert friend said she wouldn't nowadays because she's more concerned about product quality and her environmental impact. But she could easily imagine teens being very excited about having new clothes to try on every month.
Willingness to Wait
It's now clear why millions are willing to wait seven to ten days for a package from SheIn:
Usually, people tolerate long delivery days only when purchasing differentiated goods. (And Amazon has certainly raised expectations for anything that would be considered a commodity.) But clothing may just turn out to be an exception. Shopping for clothes is a fun activity for many people, not to mention the fact that SheIn has done a lot to make the process even more entertaining (more on that later). If we draw a "willingness to wait" chart, SheIn is probably on an entirely different curve compared to Amazon and the like.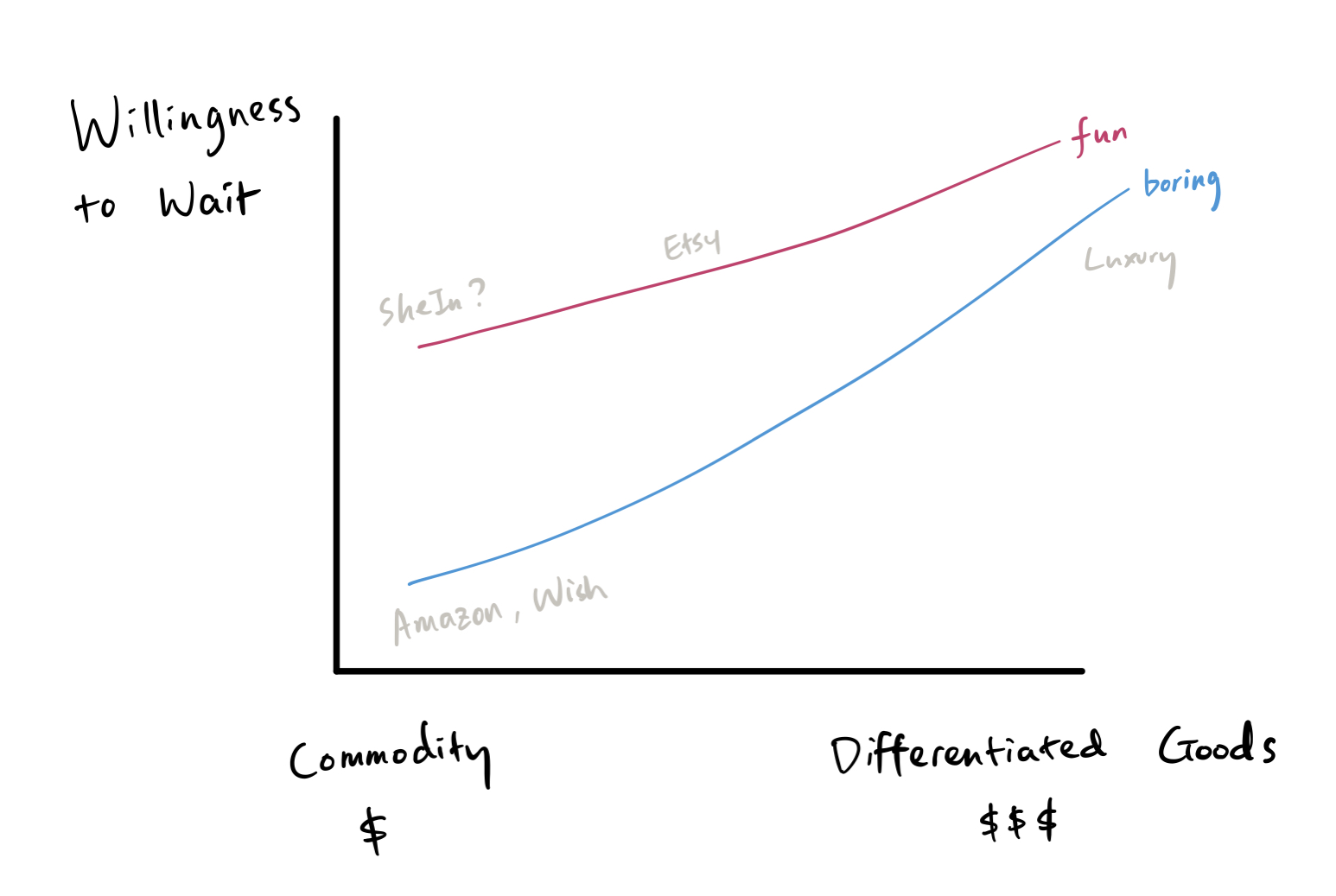 What Ram Parameswaran of Octahedron Capital said about Etsy holds for SheIn as well:
U.S. e-commerce is so boring. Think about the offline world… People love going to a mall because it's a form of entertainment… I am looking for products that delight the customer, which is why Etsy works… Is there something that hooks the consumer and makes it really entertaining? [That's] something I look for.
Wish (ContextLogic) is another useful comparison. The e-commerce company connects U.S. consumers with mostly China-based third-party sellers. But selling "boring" commodities for slightly less than Amazon is hardly a winning strategy – You can't beat Amazon at its own game.
The clothes SheIn is selling likely originate from the same factories where the items sold on Wish are made, but the crucial difference is that SheIn controls the supply chain and "delights" the customer – it hires professional photographers (acceptance rate <1%) to take dozens of photos for each item; it gamifies the shopping experience with rewards and live-streaming; it uses social media trends to inform product design and search ranking… SheIn made the shopping experience fun and found a demographic that sees clothing shopping as entertainment rather than a chore or a utility.
Another contributing factor to people's patience could be the norm around delivery at competing fast fashion retailers. In the U.S., a Zara order takes four business days to deliver and H&M six. Once you factor in weekends and holidays, ground shipping from a Zara/H&M warehouse in Indiana or Texas may not be that much faster than air shipping from a SheIn warehouse in Guangzhou. Of course, the fastest way to get your hands on a product would be to visit a brick-and-mortar store. But as I showed earlier, many in the U.S. don't have a fast fashion store nearby, and young people may be doing more of their shopping online anyways.
Taobao / PDD in America
Something else that struck me about SheIn is how closely its UI/UX mirrors Taobao, China's largest e-commerce platform. Below are their respective screens for daily check-ins, live-streaming, and customer reviews.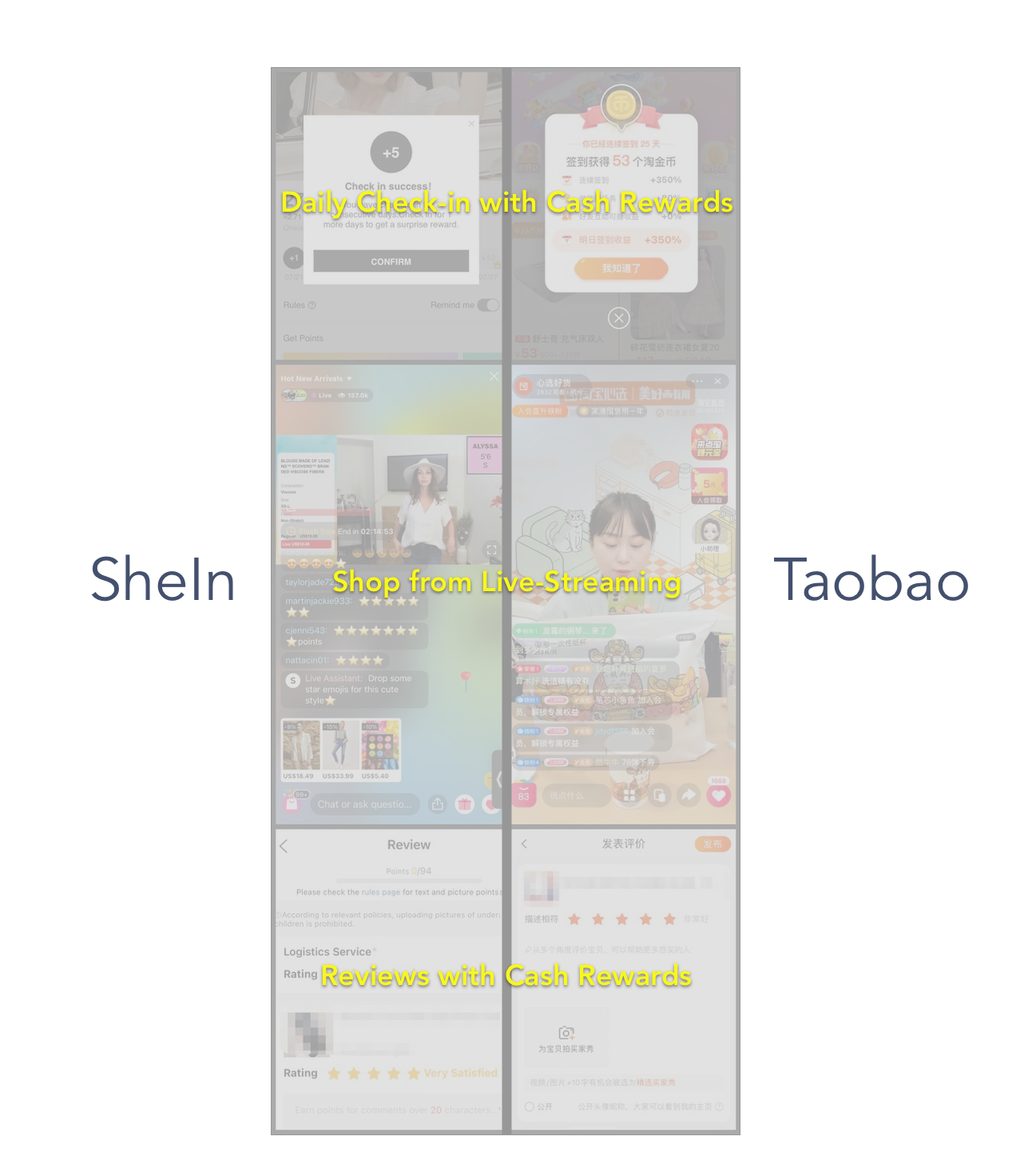 Companies often worry about UI/UX localization when they expand overseas. For example, the dense and cluttered Chinese web aesthetic may not work in countries accustomed to sleek and simple designs. SheIn, however, appeared to have done just fine with what's essentially a Taobao clone. In fact, tens of millions of people on four continents are interacting with the app every day!
I can think of two explanations for the global success of Taobao's UI/UX:
For an e-commerce business, what's most important is the reliable delivery of products that people love. UI/UX is secondary – see the Amazon mobile app's horrendous checkout experience;
The Taobao way is the universal way: People everywhere in the world love to shop in a live-streaming session, love to check in on the app every day and write lengthy reviews in exchange for cash rewards.
Other tidbits I found interesting about shopping on SheIn:
Many household items are made for the Chinese market and come in their original packaging. SheIn likely procure these products through third parties. (See the Chinese writing on the planner below and the customer review.)
The kitchen items I ordered came in 100% Chinese-language packaging as well. SheIn's customers don't seem to mind, although there was a national panic in the U.S. earlier this year over "mysterious" seeds sent from Amazon's China-based sellers.
A lot of the language on SheIn's website and app is awkwardly phrased, most likely a literal translation from the Chinese. The customer service representatives I interacted with also wrote in a similar manner. But again, tens of millions of people around the world don't seem to mind.
SheIn's Future
Currently, SheIn is trying to upsell by 1) building premium brands in addition to the main label SheIn; 2) collaborating with influencers on product design.
Over the years, SheIn has also expanded product categories from women's clothes to cosmetics, home and kitchen goods, arts and crafts, etc. Theoretically, any non-perishable commodity that's lightweight could be sold by SheIn under its current model. The company might even be able to cut into Amazon's market if it builds up logistics capability in the U.S. In the utopian/dystopian future that I imagine, humans generate designs with text, and SheIn delivers within a week.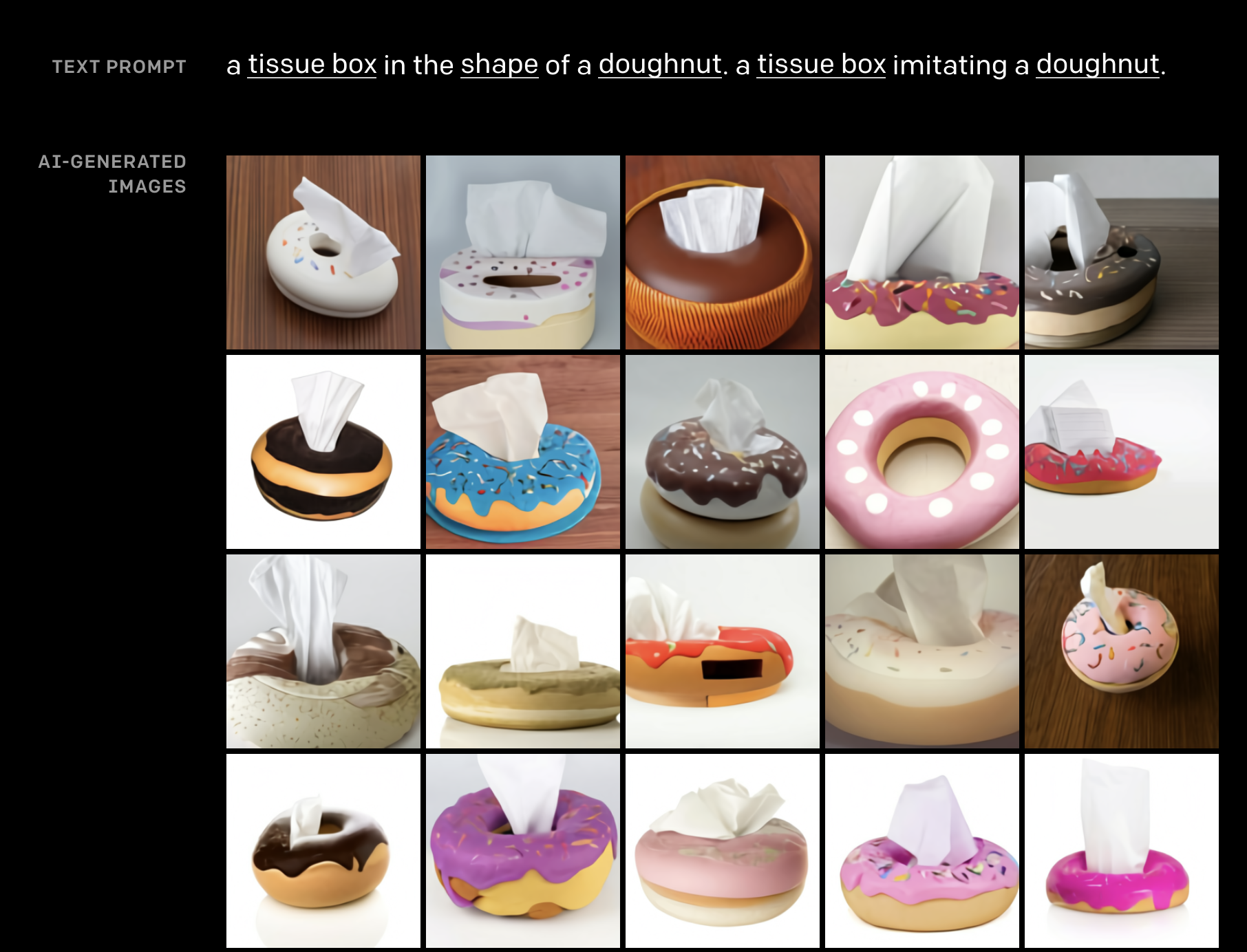 The Future We Want vs. The Future We Deserve
With its manufacturing capacity and data-driven demand predictions, SheIn is efficiency on steroids and a market proponent's dream: Some TikTok star somewhere begins talking about X; SheIn picks up the signal from search data and past purchasing behavior, tells its designers and manufacturers to make more of X; people in Brazil, France, or the Philippines start ordering X; X arrives at their doors in seven days.
But as much as I enjoyed my own shopping experience – who doesn't like putting things in their carts without looking at the price tag or opening packages filled with dozens and dozens of new toys – I had to admit that most of the items, if they were kept at all, would be discarded in a year or two. The environmental concerns shouldn't be taken lightly given the dire climate situation we are in.
The SheIn model also raises questions about labor and intellectual property. According to a supplier, SheIn now "dominates" the Chinese textile supply chain and is pushing manufacturers back in the low-value trap. SheIn evaluates manufacturers solely by the number of items produced, regardless of whether they make simple shirts or more complicated dresses. "[Using a single evaluation metric] may be easier for [SheIn], but it incentivizes us to make only the simplest designs," the supplier said. "A factory that wants to make differentiated products can't survive in SheIn's ecosystem."
When it comes to intellectual property, SheIn is harshly criticized just like any other fast fashion retailer. Below is a recent scandal involving a Nigerian designer's $330 original design and SheIn's $17 knock-off. You can see on the right that consumers felt conflicted – Was SheIn stealing or democratizing fashion? (SheIn eventually took down the product and apologized.)
As long as international trade routes remain open, I have no doubt that this new generation of Chinese entrepreneurs will produce enormous amounts of goods at prices most people around the world can afford. The efficient supply chains in East and Southeast Asia can quickly respond to or even anticipate social media-fueled demand. But is this the future we want?